What is IELTS?
IELTS is the most popular high staked English proficiency test which is accepted across the world. APSA, recognised as one of the best IELTS coaching & training centres in Gurgaon, provides free of cost Academic IELTS classes that enables the students to score high bands upto 8 (and 9 in some exceptional cases). It has developed a specialised course module that helps in mastering reading, writing, listening and speaking skills with an unmatched excellence.
In order to reach the global standards, APSA takes care of objective assessment of students' English ability and guides them in practicing it to achieve the desired score. Furthermore, it takes the students through strategic learning approach that can further advance their language skills for better future.
Strategy for IELTS Exam Preparation
Preparation for IELTS exam is based on the practice time spent on engaging with English language. Communicating in English in every minute of the day, watching films, reading books and publications help in improving the language ability.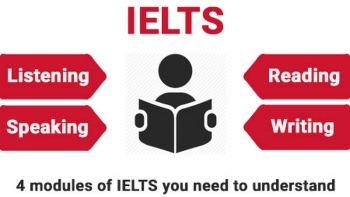 IELTS possesses fair assessment of four important language abilities –
1. Reading

2. Writing

3. Listening

4. Speaking.
IELTS Course Structure
| | | | | | |
| --- | --- | --- | --- | --- | --- |
| Course Syllabus | Course Duration | Institute Location | Course Fees | SCORING PATTERN | Course Levels |
| Reading strategy | 7 to 14 days | Gurgaon | Free | 0 to 9 band | Intermediate and above |
| Writing strategy | 7 to 14 days | Gurgaon | Free | 0 to 9 band | Intermediate and above |
| Listening strategy | 7 to 14 days | Gurgaon | Free | 0 to 9 band | Intermediate and above |
| Speaking strategy | 7 to 14 days | Gurgaon | Free | 0 to 9 band | Intermediate and above |
1. Reading Strategy
The reading part of IELTS exam includes reading comprehension and understanding the written text. Reading number of informational paragraphs in English helps in finding the answers quickly. With continuous reading habit and practice, one can improve their speed of finding the facts and opinions and gradually becomes stronger in this section.
2. Writing Strategy
The writing section depends upon the type of the test you undergo – Academic or General. It includes two to three writing tasks to evaluate the writing capabilities of the student. We assist the students in articulating their opinions and views about political, social and cultural issues in written English. We pay special attention to structuring and providing supportive information to ensure performance in this section.
3. Listening Strategy
IELTS exam also covers audio visual exercise to evaluate the listening capabilities of the student. It involves listening to the conversation of native speakers, identifying their accent and tone of the voice. Our proficient trainers take them through every conversations and interaction in English. We also focus on observing body language that can help in cracking this exercise.
4. Speaking Strategy
Speaking section is one of the most challenging sections in IELTS exam. It requires good pronunciation with fluency of speaking in English. We help the students practice on listening module more so that students can get familiar with pronunciation and work on their speaking ability. For better practice, we also provide them audio's to listen and improve their speaking skills.
Why Choose Flow?
We are one of the top IELTS Institutes in Kathmandu having strong links with renowned international universities and institutes. We implement overseas programs in almost all the countries of Asia Pacific, Europe, Canada and USA with offices and representatives present in 22 countries.
Learning Approach:
APSA is well- known in following a systematic learning approach for IELTS preparation. We focus on identifying the gaps in an individual's language capabilities and improving it by continuous feedback, guidance and special attention through customised teaching.
Excellent Infrastructure:
We are an authorised IELTS centre in Gurgaon with exceptional state-of-the-art classrooms equipped with free Wi-Fi connectivity for students. We have a unique course module and multimedia classrooms so that nothing comes in between the preparation and training of students.
Guaranteed Results:
We conduct classroom exercises and activities to make the students achieve high level band in their IELTS exam. Additionally, we make use of mock tests that guarantees excellent results.
Importance of Scoring Band 8
IELTS (International English Language Testing System) evaluates the proficiency of people applying to study or work in countries where English is the primary language of communication. It uses a scale of band 1 to 9 i.e. from beginner to expert level. Jointly owned by the British Council, IDP and Cambridge Assessment English, IELTS is conducted in two versions – Academic and General. Academic is used for getting admission for higher studies and general is used for immigration purposes.
Many students believe it is difficult to appear for IELTS exam. However, it is not true as it evaluates simple communication ability in English. Scoring a high band in the exam makes it easier for the students in immigration process. With thorough study and smart practice, one can score potentially higher band in the test.
TRAINING HIGHLIGHTS
Comprehensive Study Material: We have designed a comprehensive study material for students on the basis of the exam trends. Our study material includes books, workbooks, writing sample books, and books for improving vocabulary and grammar. In addition, the complete study material is developed in a way that familiarises the students with the test format and time restrictions.
Qualified Trainers: Our biggest strength is our proficient team of trainers who are expert with IELTS preparation. Their expertise in churning out high band scores makes us the top IELTS Institute in Gurgaon. They guide the students to move in the right direction and get the desired band by building their own language capabilities.
Flexible Batches: We provide suitable and flexible batches in morning, afternoon and evening for students as well as working professionals. They can prepare for the test without disturbing their schedule by opting for regular, weekend or crash courses.
Free of cost coaching: We are the only IELTS coaching centre in India to provide world class coaching for Academic IELTS at free of cost. It has been deliberately designed to help the students achieve impeccable English language capabilities and make it accessible for each student to fulfil their dreams.
IELTS Frequently Asked Questions (FAQs)
Q. Which organisations accept IELTS?

IELTS is accepted by more than 6000 organizations globally that includes education institutions, universities, colleges, multinational companies, business and government organizations.

Q. Who owns and develops the test?

IELTS is jointly owned by the British Council, IDP: IELTS Australia and Cambridge Assessment English. Test writers from English speaking countries develop fair, accurate and reliable test. It reflects real life situations around the world which makes it unbiased for all applicants.

Q. What are the two versions of the test? Which version should I do?

The two versions of the test are IELTS Academic and IELTS General Training. Students or individuals planning to apply for higher studies in an English speaking country are required to clear IELTS Academic. However, those who are planning to go for secondary education, work or a training programme should take IELTS general.

Q. What is the duration and format of the test?

IELTS is a fair assessment test that focuses on four important language capabilities – listening, reading, writing and speaking. The applicants are given 2 hours 45 minutes to complete the test.

Q. What help is available for disabled candidates?

To make it fair for each student, test centres provide every possible help to people with visual, hearing, speaking or learning difficulties. The special arrangements or help from test centres includes extra time, Braille papers, special CDs, lip reading version of the test, etc.

Q. When can I take IELTS?

IELTS Academic is conducted fixed 48 times in a year and IELTS General is conducted fixed 24 times in a year.

Q. What if I need to postpone or cancel my application?

Application for IELTS can be postponed or cancelled strictly 5 weeks before the test date via email or in person to avoid cancellation / postponement charges.

Q. Is the IELTS test can be completed in one day?

The listening, reading and writing sections must be completed right after each other without any intended break. However, the speaking section may be taken upto 7 days either before or after the commencement of the exam.

Q. What can I bring into the examination room?

Applicants must carry their passport or national identity card that was used as a proof during the application. Apart from this, you can only bring pen, pencils and eraser and no other belonging to avoid disqualification.

Q. Which part do I attempt first?

According to the schedule of the test, you need to take the listening part first which will be followed by reading and writing section.
Q. What kinds of accents can be heard in the Listening and Speaking sections?

Since IELTS is an international English Language test, you can expect British, Canadian, American and Australian accents in the Listening and Speaking sections.

Q. Can I use a pen for the Listening and Reading tests?

The answer sheet is scanned by a computer which cannot read pen. Thus, you should use pencil for listening and reading sections.

Q. Can I make notes on the Listening and Reading question papers?

Yes, notes can be made on the listening and reading question papers.

Q. What does the speaking test includes?

The speaking test includes conversation with the examiner. It is divided into three parts to assess your spoken English. The first part includes general questions about yourself, in the second part you will be given a card which asks you to talk about a particular topic and in the last third part you will be asked further questions about the topic given in part 2.

Q. What do I need for the Speaking test?

You need to bring your identity proof to enter the interview room.

Q. How are the tests marked?

IELTS is marked on a 9 band scale from 1 i.e. non user to 9 i.e. expert users.

Q. What is the validity of IELTS results?

The validity of test result is recommended for 2 years by the IELTS partners.

Q. How and when do I receive my test report?

The test report is sent to you 13 days after the date of the exam. Some centres also provide an SMS alert and declare the result online as well.

Q. What if I lose my Test Report Form?

Test reports should be kept in a secure place as the applicant receives only one copy of it. However, if you lose it, then a test report form will be forwarded to the relevant institution or embassy.

Q. Can I re-apply for the test?

If you are unsatisfied with the test result, you can register for IELTS again with better preparation.

Q. What if I feel my test result is wrong?

IELTS is evaluated thoroughly with strict guidelines. If you feel that your test result is wrong, you can apply for an enquiry at the test centre within six weeks of the test date. If the score changes, your enquiry fee will be fully refunded.

Q. What if I am delayed by circumstances beyond my control?

The test centre may offer another test date available.